The roar of high-caliber guns, the shouted orders of your squad leader, and the dread of seeing a building fall apart beneath your feet. These are the experiences waiting for you in DICE's Battlefield 4. Participate in battles waged all over the world and secure the victory for your allies.
Levolution of warfare
Static maps are a thing of the past. In Battlefield 4 maps have earth-shattering events. Whether occurring naturally or triggered by the player, once they happen they are game-changers. A skyscraper falls down on the city, a town is flooded by water, a monsoon hits while a massive ship crashes into a small island. When either of them happens, be ready to adjust your approach accordingly, or the enemy will have the advantage.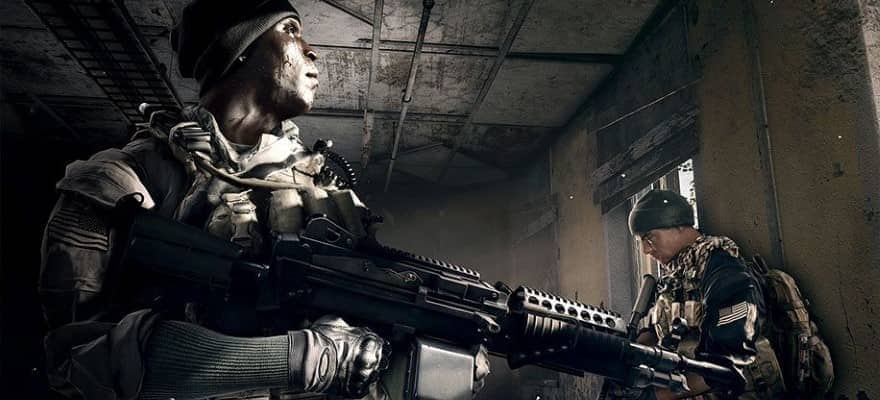 Flexible classes
Pick a class and make it your own. Battlefield 4 (PC) doesn't lock you into a predefined loadout which limits your playstyle. Make your Recon into something other than a sniper. Get a shotgun or an SMG, changing you from a long-distance support to a CQC reconnaissance expert. Every class can be more than you expect of it, because now they are defined more by gadgets than weapons.
Engaging singleplayer campaign
Welcome to year 2020, when a new great war erupted between nations of the world. You are Sgt. Daniel "Reck" Recker, a member of a U.S. Marine Core Squad called Tombstone. You need to stop an overly ambitious admiral from a coup d'état, and that's just the setup. Listen to your squadmates' relaxed chatter during quieter times, and coordinate with them to take down your enemies. One way or another, your squad will have your back at all times.
Exciting multiplayer
Battlefield 4 gameplay shines the brightest in its multiplayer. Engage in battles with up to 32 players per side, and in different, carefully designed modes. Conquest takes the battles to the land, air, and sea in fights for flags and enemy extinction. Domination is just like Conquest, but focused on infantry combat. Obliteration will have you retrieve bombs and detonate them at your enemies' key strategic locations. These are but a handful of exciting modes waiting for you in the game.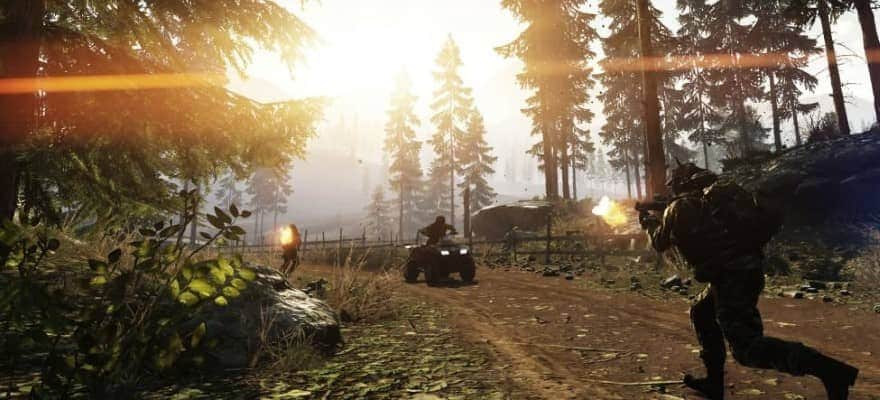 Rewarding teamwork
BF4 for PC is as much about accuracy as it is about working with your team. Helping your squad nets all of you Field Upgrades which vastly improve your efficiency during the match. Squad leaders can coordinate with a Commander who oversees the tides of battle. Multiplayer rewards respecting the chain of command and contributing to war efforts, like few games do.
Glorious destruction
In addition to levolution, game has a dynamic damage model allowing you to reshape the levels in many different, yet always destructive ways. Drive a tank through a house to see it crumble around you. Tear down a wall with grenades, or knock the supports from under a building with a rocket launcher. Create new avenues of approach and surprise your happily camping enemies.
Key features:
Battlefield 4 is a solid offering of interesting singleplayer campaign and gripping, complex multiplayer modes, and excellent gunplay. Engage in large battles in urban and rural areas, become a field Commander or remain just a grunt. Either way you are going to have a great time.
Commander mode – see the battlefield from a satellite, order your troops, assign priority objectives, and show your enemy the true master of tactics
Diverse classes – you always liked a class gadget, but the weapons weren't for you? Now you have more leeway in customizing your loadout
Exciting game modes – between Obliteration, Defuse, or the classic Conquest, and more you are sure to find a mode that suits your tastes
Dynamic progression – work with your squad and get Field Upgrades boosting you efficiency as a reward. Play for yourself, and remain just a grunt
Levolution – the maps aren't static. Trigger earthshaking event which fundamentally reshape the level for the rest of the match
What is the price of Battlefield 4 in United States?
The best Battlefield 4 is Regular price: ৳ 2,146 & Sale price: ৳ 1,870. You can buy the Battlefield 4 at the best price in United States from SHOPEYBD on our website. Our products are verified by the official brand websites. We deliver quickly, and sometimes even offer same-day delivery.