Jagex RuneScape Prepaid Card (US) can be used to purchase a wide range of Membership, RuneCoin and Key packages, allowing you to fully experience the thrilling adventures of the World's Greatest Adventure. Explore the epic game world, master exclusive skills, venture out on thrilling quests and more. Arm yourself with powerful weaponry and armor and engage in fierce combat with rival clans. Get ready for an exciting new adventure with Jagex RuneScape Prepaid Card (US).
Jagex is an independent developer and publisher of online games headquartered in Cambridge, England. Jagex has developed and self-published over 40 online titles including the world's most popular free MMORPG, RuneScape.
HOW TO REDEEM?
1. Visit RuneScape official site, login to your account.
2. Go to Shop page and click on "Pre-paid Cards" to proceed to the redemption page.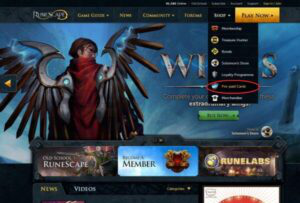 3. Click on "ACTIVATE CARD", enter your code in the box labeled "Redeem a Pre-Paid Card" and press "Redeem".
The best RuneScape Prepaid Card is Regular price: ৳ 1,153 & Sale price: ৳ 1,153. You can buy the RuneScape Prepaid Card at the best price in United States from SHOPEYBD on our website. Our products are verified by the official brand websites. We deliver quickly, and sometimes even offer same-day delivery.