ARMA 3 is the third entry into the franchise developed by Bohemia Interactive, the creators of Operation Flashpoint. ARMA 3 takes the fight to two semi-fictional islands on the Mediterranean, one of which is an enormous area hardly ever seen in the games of this genre.Master the complex controls, and guide your squad in the most complex military shooter franchise since Operation Flashpoint.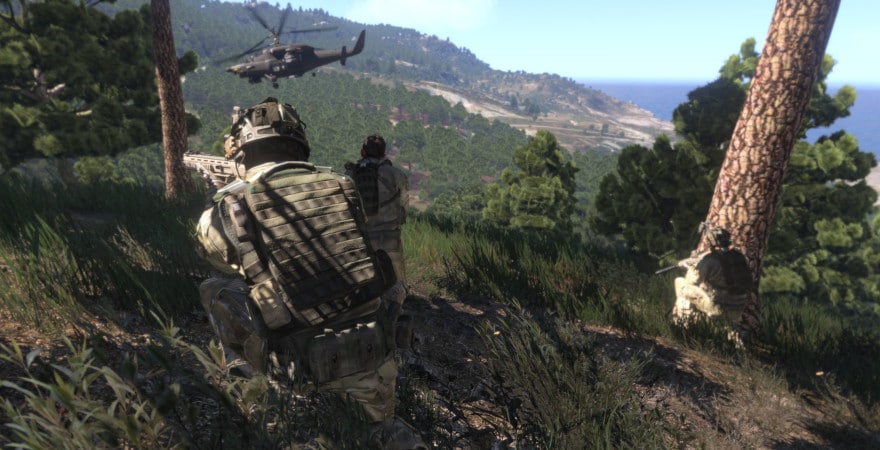 Massive gameplay area
ARMA 3's gameplay area is divided into two large islands. While the smaller one is "just" 20 km2, the larger, Altis is a huge landmass, spanning 270 km2 of area. And it's not just empty space, either. Both islands are filled with villages, forests, ruins, and many more, providing a diverse environment for all manners of military activity.The size of this playground allows the players to make a kilometer-long sniper shots if only they are skilled enough, coordinate military maneuvers, or just travel and revel in the environments created by Bohemia Interactive.
Complex ARMA 3 gameplay
ARMA 3 is not a game you can play casually. Between the large number of different available equipment pieces and a complex control scheme, ARMA 3 takes a long while to master. And achieving mastery in handling all the systems in the game is a reward in itself, even before crushing your opponents in an effort coordinated between dozens of other players. Do you have the patience to learn the functions of every key and command? The game is not going to hold your hand at any point. You are on your own.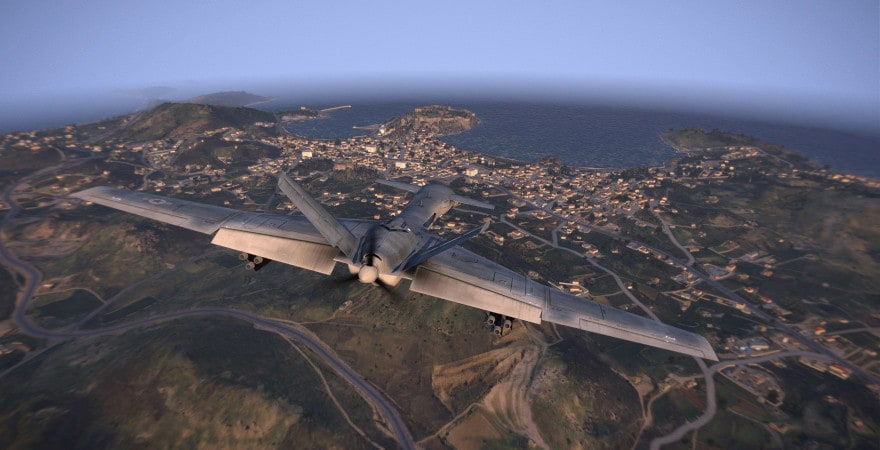 Fully-fledged campaign
ARMA 3 story is divided into three chapters, each focusing on a different key aspect of success. The episode names are Survive, Adapt, and Win, and take the protagonist Corporal Ben Kerry from a regular soldier following orders, to a leader of his own squad. Take part in a conflict between NATO and CSAT (Canton-Protocol Strategic Alliance Treaty) and help resolve the conflict which tore the Altis and Stratis islands apart, driving thousands of inhabitants from their homes.
Endless multiplayer content
Thanks to a seamless Steam Workshop integration, ARMA 3 players have instant access to thousands of various modifications created by the community. Thousands of new missions, new vehicles, more weapons. All of it makes ARMA 3 a continuous experience and makes sure the game stays fresh.Moreover there are no limits to the maximum number of players, letting you engage in battles larger than in any other similar game.
ARMA 3 features
Emergent stories – new, unscripted stories arise whenever you play ARMA 3. Watch missions go in an unexpected, but interesting direction due to unforeseen circumstances
Complex controls – mastering the input of ARMA 3 takes time, but makes playing successfully even more rewarding
Immense area of operations – a total of 290km2 of diverse land are given to the players to use in any way they see fit
Rich environments – ARMA 3 is a stunning world, all the more impressive for the scale of it. Ruins, forests, villages and more await you on the islands of Altis and Stratis
What is the price of Arma 3 in United States?
The best Arma 3 is Regular price: ৳ 4,299 & Sale price: ৳ 1,378. You can buy the Arma 3 at the best price in United States from SHOPEYBD on our website. Our products are verified by the official brand websites. We deliver quickly, and sometimes even offer same-day delivery.