Have you ever received a Google Play Gift Card (US)? Well, I did and to my shocking discovery, I couldn't redeem the code due to my location. Apparently, gift cards can only be used within the United States. However, with some research, I figured out a way to around those restrictions. Read on and find out how to redeem Google Play Gift Card from Bangladesh.
How to redeem Google Play Gift Card from Bangladesh?
It's been some time since Google added the gift card option in the US. However, millions of users can't redeem their gift cards if they're in an unsupported region. I know it can be quite frustrating, but that's how it is. You can either cope with that or learn how to redeem Google Play Gift Card from Bangladesh.
The main reason for being unable to redeem your codes in Bangladesh is because your region's currency is not US dollars. These codes usually add credits in $. So, if this is not your country's currency, then you probably can't take advantage of it. Trying to use a gift card in Bangladesh will only result in this geo-error message: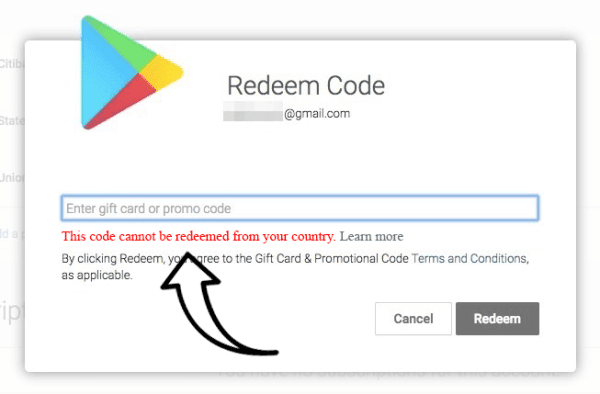 "This code cannot be redeemed from your country."
To solve the issue at hand, you need to have a US-region Google Play Store. That's why we're here guys. Here's how you can change your Play Store's country to USA and redeem your code:
Visit https://pay.google.com.
If you see that Google wants you to enter Credit Card information, then visit https://www.google.com/adsense and apply for an AdSense account using fake USA address. Then read from step 8.
Click on Settings.
Then Click on Country/Region.
Click on Create new profile.
Create a new payment profile using fake USA address.
Now select and delete the old payment profile.
Sign up for VPN service and download their official app.
Go to the VPN list and select a US server.
Once the connection is established go to Settings > Apps.
Look for Google Play Store and click on it.
Force Stop the application and go to its storage section.
Clear Cache and Data.
Exit and relaunch Google Store.
You'll notice that your currency is now in dollars.
Go to Google Store's Settings (Three lines on the top left).
Tap Redeem.
Enter your code.
Click on Redeem.
You've now successfully redeemed your gift card in Bangladesh.
For this to work, you need to establish a VPN connection first. Moreover, I use TunnelBear VPN (PC) and Hotspot Shield (Android) whenever I experience a geo-block online, so I suggest you do the same as it also protects your data while you're browsing the web. Nevertheless, if my VPN isn't your cup of tea, you can find a list of other best VPNs in Google.
FINAL THOUGHTS
You should be all set. Remember that once you change your Google Store's region, you'll be able to download apps, movies, and TV shows, from the US library and other regions based on the server you're connected to.
We don't know whether Google is ever going to expand this service to include people from Bangladesh. Nonetheless, for the time being, you now know how to change your Store's region and redeem your codes regardless of your location. Enjoy a whole new Android experience.
Buy your Google Play Gift Card here.