Spider-Man: Miles Morales is an open-world action-adventure game developed by Insomniac Games and published by Sony Interactive Entertainment. The sequel to 2018s Marvel's Spider-Man, the game continues the story of the New York's web-slinger, this time featuring Miles Morales, a teenage friend of Peter Parker who gained spider-spider abilities. The game will focus on Miles' fight for peace in the city, threatened by another turf war.
The title's initial reception was highly positive, with the critics praising the choice of protagonist and expanding on the lore of the Spider-universe.
Gameplay
The gameplay of Spider-Man: Miles Morales will remain mostly unchanged in comparison to that in the original game. The player will control Miles Morales, a new Spider-Man in town. Miles will be able to use the same spider-powers as Peter, with a few tricks of his own. One of them is deploying an electric forcefield, protecting him from enemy attacks. Other than that, the fans of Marvel's Spider-Man will find themselves right at home, swinging around New-York's skyscrapers and serving justice to the bad guys, thanks to intuitive combat mechanics.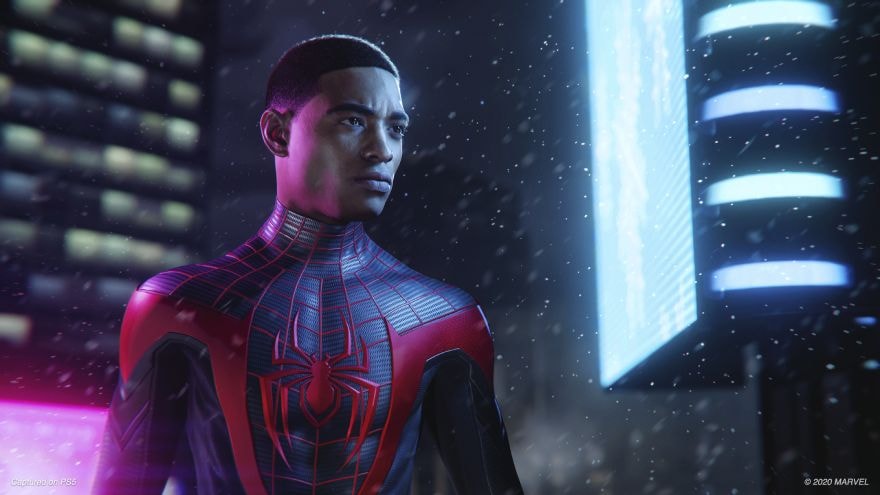 Story Summary
After the events of The City That Never Sleeps DLC, peace has seemingly returned to the Big Apple. But not for long. The streets become the arena of a brewing war between Roxxon Energy Corporation and the Undeground – a gang lead by a technological mastermind calling himself the Tinkerer. Having practiced the use of his spider-powers under Peter Parker, Miles Morales takes up the mantle of Spider-Man to defend the city. His task won't be easy as he must reconcile his responsibilities as the city's protector, a high school student, and help his mom with her City Council campaign. Will Miles be able to accomplish it all?
Reception
Marvel's Spider-Man: Miles Morales was introduced as one of the launch titles for the PlayStation 5 console. The game received positive critical reception; the reviewers praised the choice of the main character, highly popular among Spider-Man's fanbase.
Key features
Return to New York City for a new web-slinging adventure.
Play as Miles Morales, the new Spider-Man in town.
Deploy Miles' original spider-powers against new enemies.
Stop the war between Roxxon Energy Company and a new gang – The Underground – in an exciting, brand-new story.
The best Marvel's Spider-Man Miles Morales is Regular price: ৳ 5,240 & Sale price: ৳ 3,594. You can buy the Marvel's Spider-Man Miles Morales at the best price in United States from SHOPEYBD on our website. Our products are verified by the official brand websites. We deliver quickly, and sometimes even offer same-day delivery.